The Prolificacy of LockBit Ransomware
Today, the LockBit ransomware is the most active and successful cybercrime organization in the world. Attributed to a Russian Threat Actor, LockBit has stepped out from the shadows of the Conti ransomware group, who were disbanded in early 2022.
LockBit ransomware was first discovered in September 2019 and was previously known as ABCD ransomware because of the ".abcd virus" extension first observed. LockBit operates as a Ransomware-as-a-service (RaaS) model. In short, this means that affiliates make a deposit to use the tool, then split the ransom payment with the LockBit group. It has been reported that some affiliates are receiving a share as high of 75%. LockBit's operators have posted advertisements for their affiliate program on Russian-language criminal forums stating they will not operate in Russia or any CIS countries, nor will they work with English-speaking developers unless a Russian-speaking "guarantor" vouches for them.
Initial attack vectors of LockBit include social engineering, such as phishing, spear phishing, and business email compromise (BEC), exploiting public-facing applications, hiring initial access brokers" (IABs), and using stolen credentials to access valid accounts, such as remote desktop protocol (RDP), as well as brute-force cracking attacks.
During last year's Global Threat Forecast webinar, hosted by SecurityHQ, we identified LockBit as a significant threat and highlighted them as a Threat Actor to pay close attention to during 2022.
LockBit Targets
LockBit has typically focused attacks on government entities and enterprises in a variety of sectors, such as healthcare, financial services, and industrial goods and services. The ransomware has been observed targeting countries globally, including the US, China, India, Indonesia, Ukraine, France, the UK, and Germany.
Another interesting feature of LockBit is that it is programmed in a way that it cannot be used in attacks against Russia or CIS countries (Commonwealth of Independent States). This is likely a precautionary measure taken by the group to avoid any potential backlash from the Russian government.
The map below shows the locations targeted by LockBit.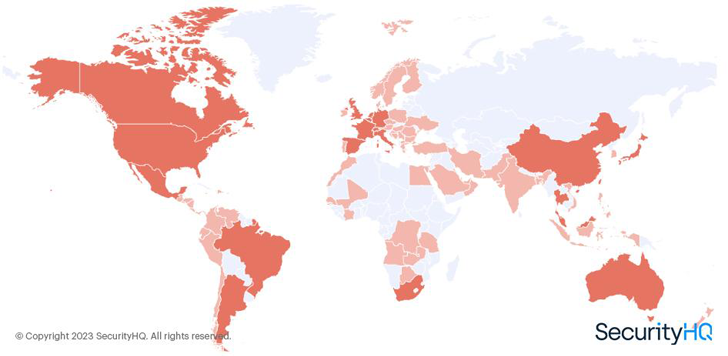 Figure 1 – SecurityHQ Analysis of LockBit Victims Per Geography
A Busy Year for LockBit
Through analysis of leak site data, we were able to get a true picture of how many successful attacks LockBit had made. In 2022, the group published more successful attacks than any other ransomware group. We have mapped the activity of LockBit throughout the year against other well-known ransomware groups. You can see the decline of Conti as the group started to shut down operations. It is now reported however, that members of the once prolific Conti ransomware group are now operating within the BlackBasta, BlackByte and Karakurt ransomware groups.
The graph below demonstrates how active LockBit were during 2022, compared to other ransomware groups.
One of the unique features of LockBit is their bug bounty program for their ransomware builders and compilers. The group offers a $1 million reward for anyone who can dox (publicly reveal the identities of) their owners. This is a significant sum, and it shows how serious LockBit is about maintaining their anonymity.
Recently, the group has been linked to an attack on Royal Mail in the UK. However, LockBit has denied any involvement in the attack, stating that it was carried out by an affiliate. This is not uncommon for ransomware groups, as they often use affiliates to carry out attacks in order to distance themselves from the consequences.
Overall, the LockBit ransomware group is a formidable and sophisticated cybercrime organization that poses a significant threat to businesses and organizations around the world. With a well-established ransomware-as-a-service model, a bug bounty program, and a willingness to reward those who reveal their identities, LockBit is a force to be reckoned with in the threat landscape.
What is RaaS?
Ransomware-as-a-service (RaaS) has gained popularity in recent years. RaaS refers to a type of business model where ransomware operators provide the malware and tools to other individuals or organised crime groups to carry out ransomware attacks, in exchange for a share of the ransom payment. This allows even less technically skilled individuals to participate in ransomware attacks, increasing the number of attacks and making it more difficult to track and apprehend the attackers.
What to Do Next
To enhance your security posture, it is recommended that businesses do the following steps:
Ensure Managed Detection and Response (MDR) is used to understand malicious or anomalous activity, analyse, prioritise, and respond to threats in rapid time, and safeguard your data, people and processes.
Ensure that employees are trained and educated on the latest cyber security threats, so that they know how to spot an attack, and respond to it in the right way.
To listen to SecurityHQ experts discuss some of the greatest threats seen throughout 2022, discuss the consequences of a breach, with predictions for 2023, and how to mitigate against upcoming cyber security threats, download this webinar recording' Global Threat Landscape 2023 Forecast', to know more.
Note: This article is by Aaron Hambleton, Director for Middle East & Africa at SecurityHQ. With over 11 years of experience across various sectors like Financial Services, Retail, Insurance, Government, and Telecommunications, Aaron is a certified GCDA and has expertise in incident response, threat hunting, vulnerability management, cyber security operations, threat intelligence, and consultancy.